Alternate Reality - The Remake is a remake of the classic game called "Alternate Reality". It was originally created by Philip Price on Atari 8-bit. It was ported over to many different computers that were available at that time. This is a re-creation of the original game, this is not an emulation, the game play is a little different from the original game.

How Will You Play
How will you play, you have many options when starting a game to select how you want to play. Select 8-bit graphics or 16-bit graphics. Turn on/off features related to 8-bit or 16-bit game play. Select 8-bit guild style or 16-bit guild style. The combinations are up to you. Once you selected a game you will be forced to play with those settings for that entire game.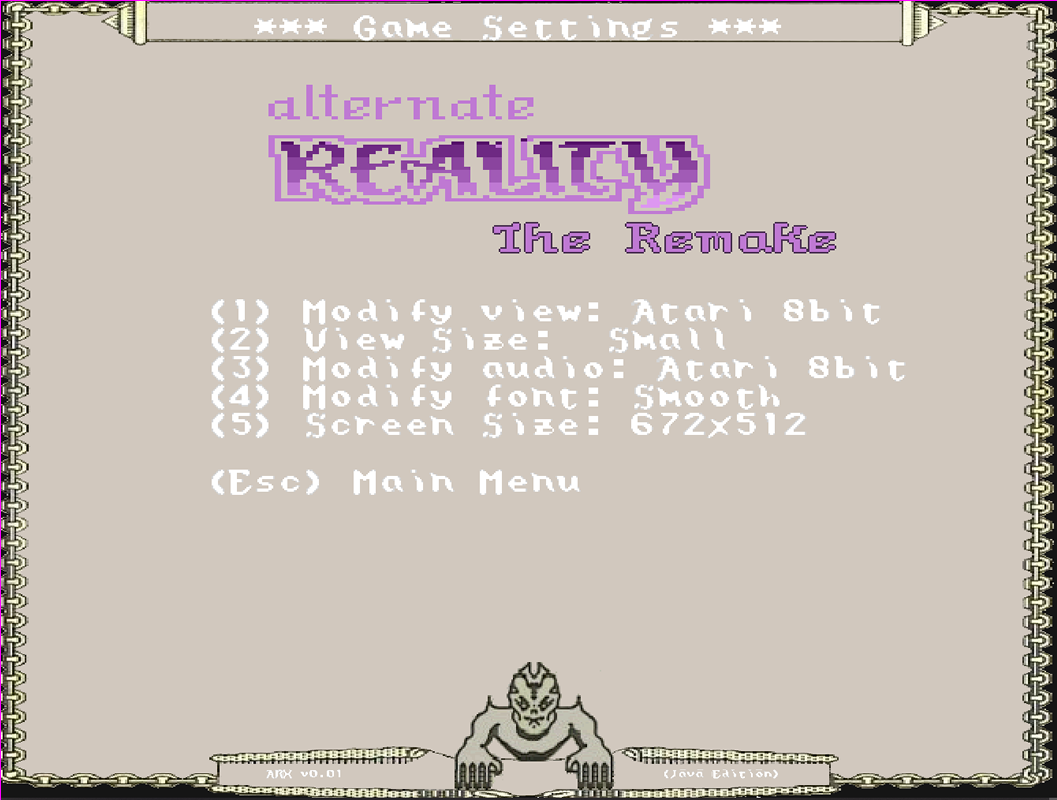 Challenge Mode
In The Remake, there is a challenge mode. See how long you can survive in the challenge mode. There is no saving of the character. You get one life and its up to you how long you can survive. In this mode it keeps score, many things you do has points and you get a total score. You can view your results in the challenge high score menu. You can see many things about your player and a screenshot of when you died.
Can you beat your Friends!
Achievements
Another new feature that is added to The Remake, is achievements. See if you can get them all. 40+ achievements to see if you can get them all. Achievements work like achievements on a PS4 or Xbox1. The achievements are not associated with a saved game or a player. Achievements are based on the computer, anyone playing will add to the achievement. See if you can get the 1 year achievement.
Difficulty Level
When playing The Remake, you have the ability to select a difficulty level for your game or challenge mode. The game will change based on this. There are 3 options for difficulty: "Easy", "Normal", "Hard". "Normal" mode is basically just like playing the original game.